New Banarasi Saree for Karva Chauth
Karva Chauth, a traditional Hindu festival celebrated by married women, is not only a day of fasting and prayers but also a celebration of love and marital bliss. The choice of attire for this special occasion holds great significance, and one of the most revered choices is the Banarasi saree. In this article, we'll explore the timeless elegance of Banarasi sarees and why they are a perfect choice for Karva Chauth.
Banarasi sarees originate from the city of Varanasi (formerly known as Banaras) in the northern Indian state of Uttar Pradesh. These sarees are renowned for their opulent silk fabric, intricate weaving, and artistic designs. The history of Banarasi sarees can be traced back to the Mughal era, making them a symbol of India's rich cultural heritage.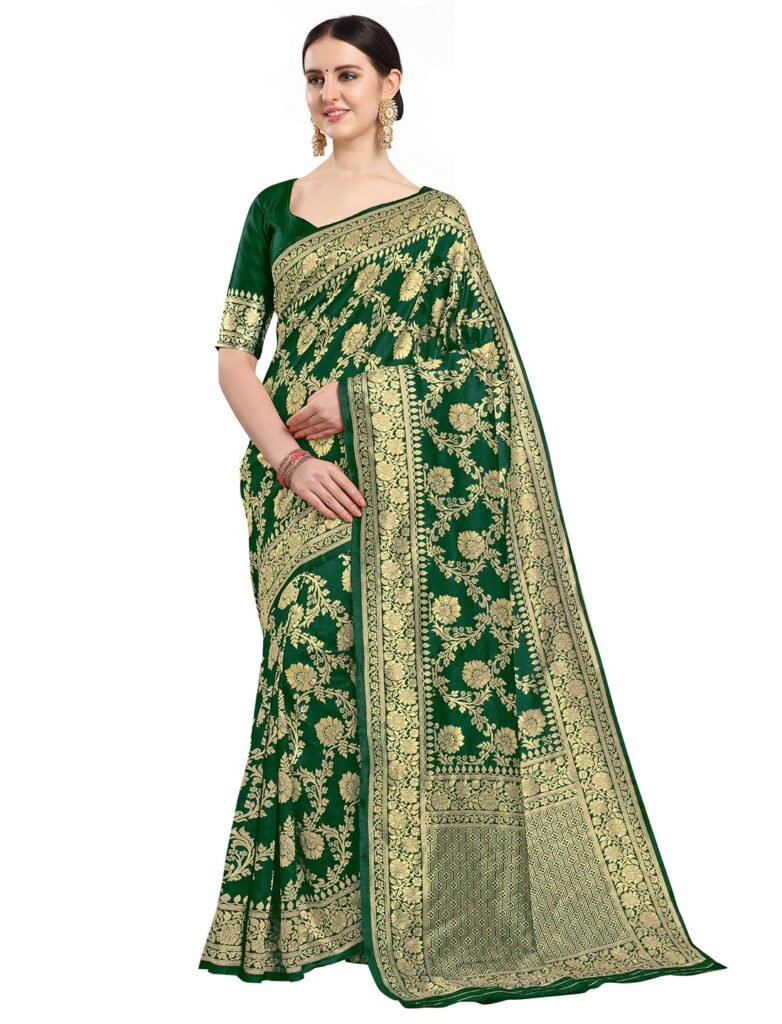 Elevate your style with this exquisite Woven Banarasi saree, measuring 5.5 meters in length, accompanied by an unstitched blouse piece that boasts a blend of silk fabric in a captivating Bottle Green hue. The blouse fabric is adorned with intricate embellishments, featuring Zari woven work that adds a touch of opulence to your ensemble. With a blouse length of 0.80 meters, you have the creative freedom to design it to your liking. Whether you're dressing up for a party, a festive occasion, a wedding, or simply embracing traditional wear, this ensemble is the perfect choice
This enchanting saree is a perfect blend of tradition and elegance, featuring a harmonious combination of Yellow and Pink hues. Crafted from luxurious Banarasi Silk, the saree measures 5.5 meters in length, ensuring grace with every drape. The accompanying blouse, in a complementary Pink shade, is made from Dhupion Silk and measures 0.8 meters. The saree comes with an unstitched blouse piece, cleverly attached to the end of the saree, offering versatility in styling. With its vibrant colors and rich fabrics, this ensemble is bound to make a statement at any special occasion.
Banarasi silk Jacquard with its low density makes for light and comfortable clothing – it is one of the most comfortable fiber fabrics. It has good insulation properties – warm in winter, cool in summer and high resistance to deformation. Clothes made of silk have a characteristic shimmer and shine.
This silk saree has woven zari design all over. Zari woven border with design pallu, soft finished & comfortable to wear. This saree manufactured, keeping all the ages and occasions in mind, it is traditional but youthful as well!
The saree comes with an intricately woven silk blend blouse piece of contrasting color to add to its elegance. The blouse piece can be stitched as sleeveless for a modern glamourous look or full sleeves length to retain the traditional elements. saree is traditionally created by weavers. Considered to be made from the highest quality silks, though intricate and very beautiful. Featuring an unending variety in color, shades, contrasts and patterns. The saree is recommended to be dry cleaned which helps to retain the color & softness of the fabric & gives it a new look.
This saree is created by weavers. Considered to be made from the highest quality silks, though intricate and very beautiful. Featuring an unending variety in color, shades, contrasts and patterns.  The 5.50mtr saree drapes you really well while giving you ease of wearing. It comes with the right volume and weight to deliver higher level of convenience. The 0.80mtr unstitched and Jacquard Banarrasi work gives you the liberty of getting your blouse custom-made. It enables you be the total dive flaunting beatiful colors.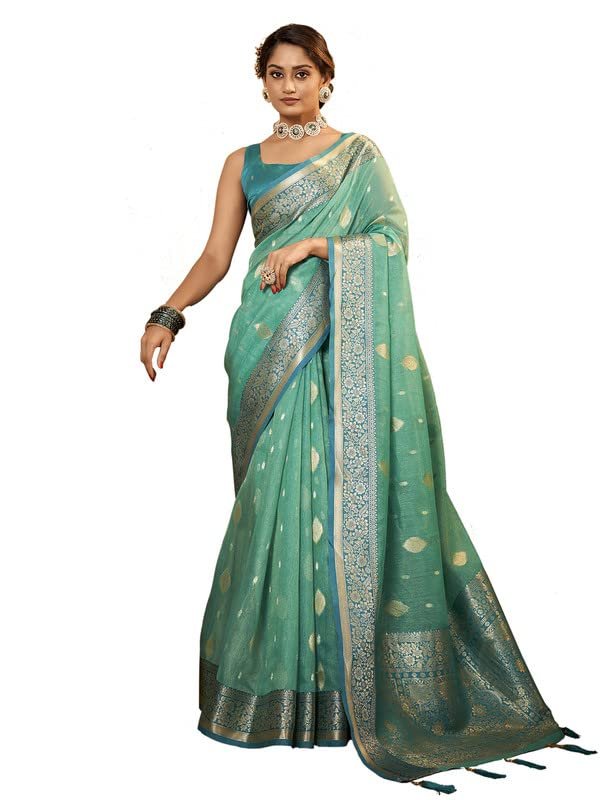 As you prepare for Karva Chauth, the choice of your attire is an essential part of the celebration. A Banarasi saree not only embodies the grace and charm of a married woman but also reflects the timeless traditions and cultural heritage of India.
So, when you fast and pray for the well-being and longevity of your spouse on Karva Chauth, let the Banarasi saree be your chosen symbol of love, tradition, and enduring beauty. It's more than just clothing; it's a celebration of your commitment and the rich tapestry of Indian culture.
Also Read