Wearing a beautiful green saree on Hariyali Teej
हरियाली तीज एक पारंपरिक हिंदू त्योहार है जिसे मुख्य रूप से भारत और नेपाल में महिलाओं द्वारा बड़े उत्साह और भक्ति के साथ मनाया जाता है। यह त्योहार अगस्त में नागा पंचमी से दो दिन पहले मानसून के मौसम में आता है। यह त्योहार भगवान शिव और देवी पार्वती की पूजा को समर्पित है। महिलाएं, विशेष रूप से विवाहित और अविवाहित लड़कियां, भगवान शिव और देवी पार्वती के प्रति अपनी भक्ति की अभिव्यक्ति के रूप में हरियाली तीज पर एक दिन का उपवास रखती हैं। वे अपने पतियों की भलाई और सुखी वैवाहिक जीवन के लिए प्रार्थना करती हैं। अविवाहित लड़कियाँ एक आदर्श जीवनसाथी के लिए प्रार्थना करती हैं। हरियाली तीज न केवल एक धार्मिक त्योहार है बल्कि मानसून के मौसम और भारतीय संस्कृति के जीवंत रंगों का उत्सव भी है। यह हिंदू समाज में पारिवारिक और वैवाहिक आनंद की गहरी जड़ों वाली परंपराओं और मूल्यों को दर्शाता है।
The latest Banarasi silk saree designs bring forth a fusion of tradition and contemporary aesthetics, catering to the preferences of modern women while preserving the essence of the classic Banarasi weave.These sarees feature innovative motifs, patterns, and color combinations that add a refreshing twist to the traditional craftsmanship, making them a perfect choice for various occasions. This beautiful saree features a stunning work design on a four-meter length of fabric, while the remaining one and a half meters are left plain. The blouse piece included with the saree measures 0.80 meters, providing ample material for customization to your specific size and style.
A Silk Printed Green Saree is a stunning amalgamation of traditional luxury and contemporary style. Crafted from sumptuous silk fabric, this saree exudes a natural sheen and a smooth texture that enhances its overall elegance. The lush green hue symbolizes freshness, growth, and harmony, while the prints can range from delicate florals to intricate patterns, depending on the designer's creativity. The combination of silk and print adds a touch of sophistication, making it a versatile choice for various occasions.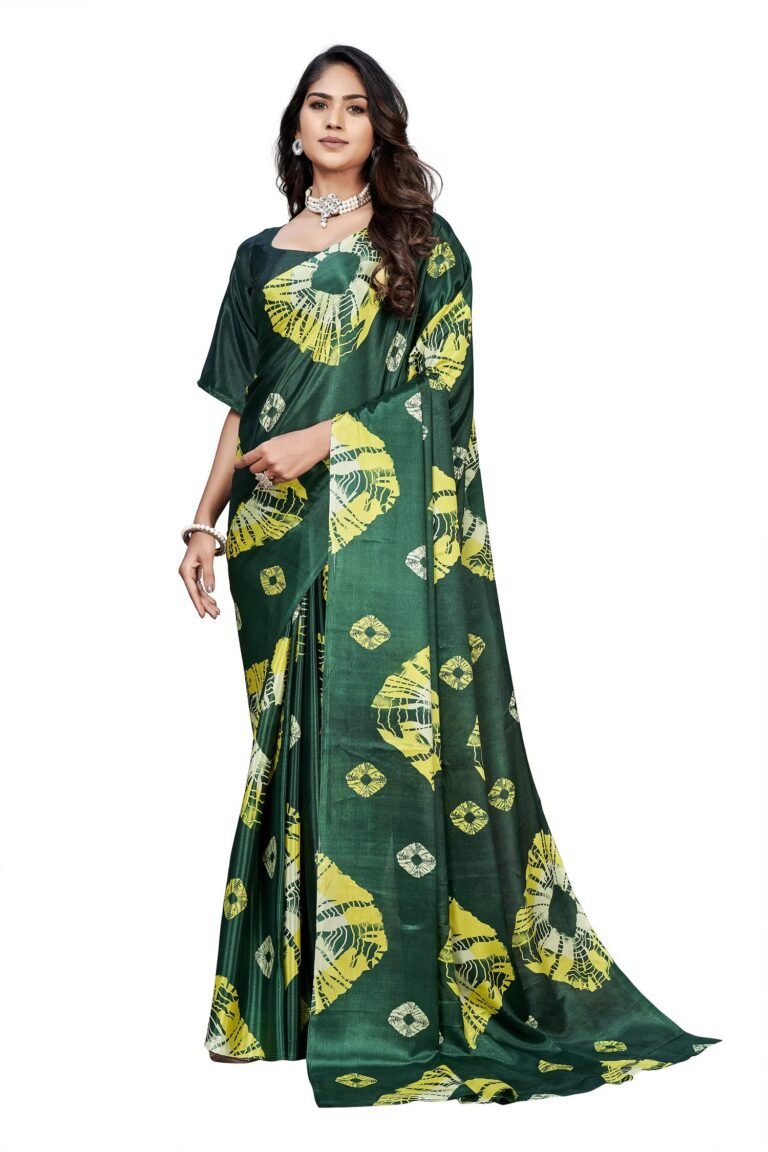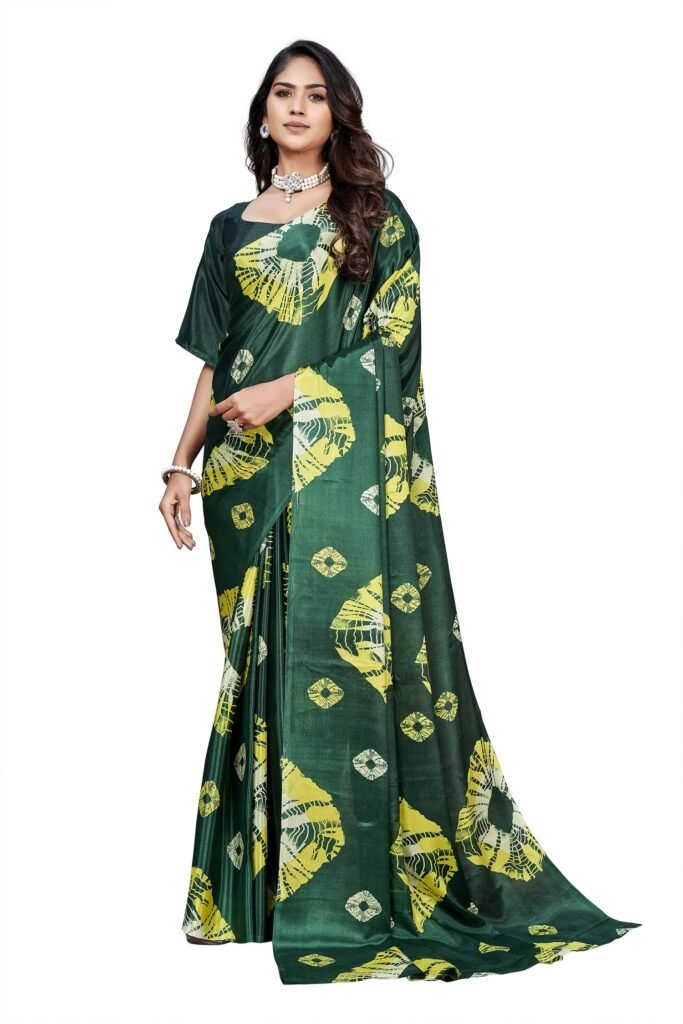 A Banarasi Silk Green Saree is a timeless masterpiece of Indian craftsmanship and elegance. Originating from the city of Varanasi, this saree showcases the artistry and tradition of silk weaving at its finest. The lush green hue of the fabric, ranging from serene pastels to rich emerald tones, symbolizes freshness, growth, and harmony. The broad border and meticulously designed pallu add an extra layer of grandeur to this exquisite ensemble. A Banarasi Silk Green Saree isn't just a garment; it's a symbol of grace and sophistication, making it a cherished choice for weddings, festivals, and other special occasions where tradition meets contemporary style.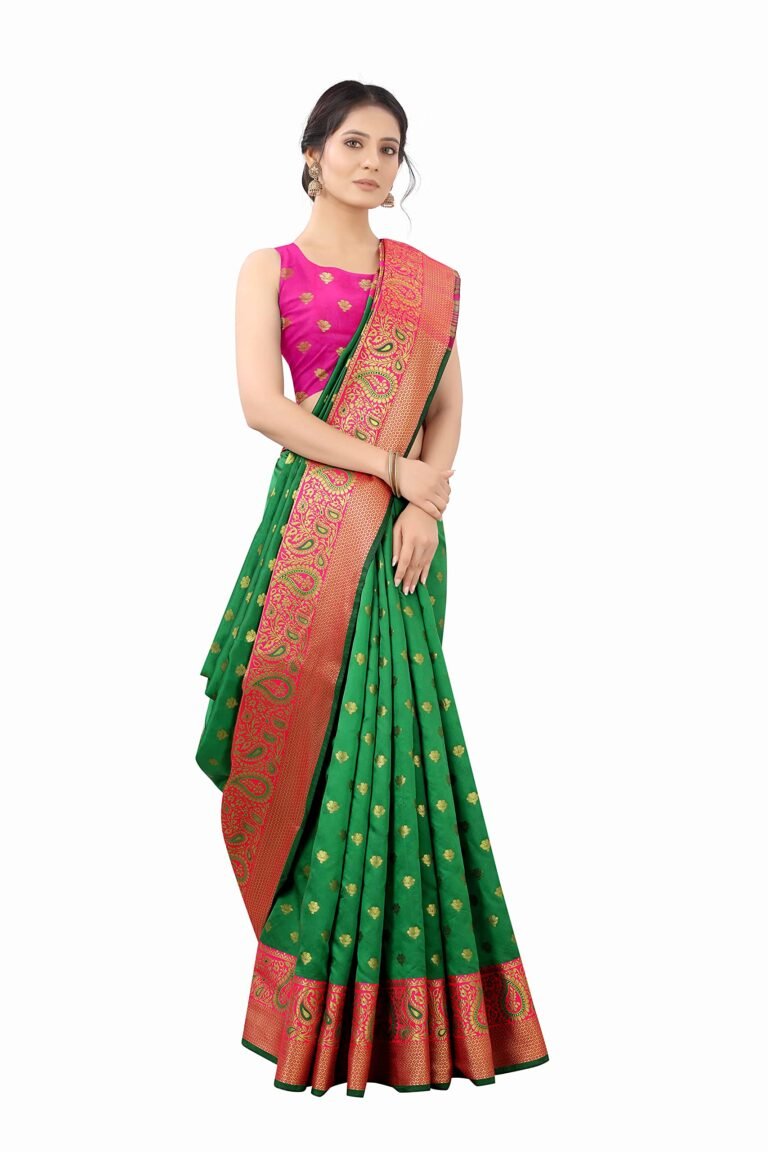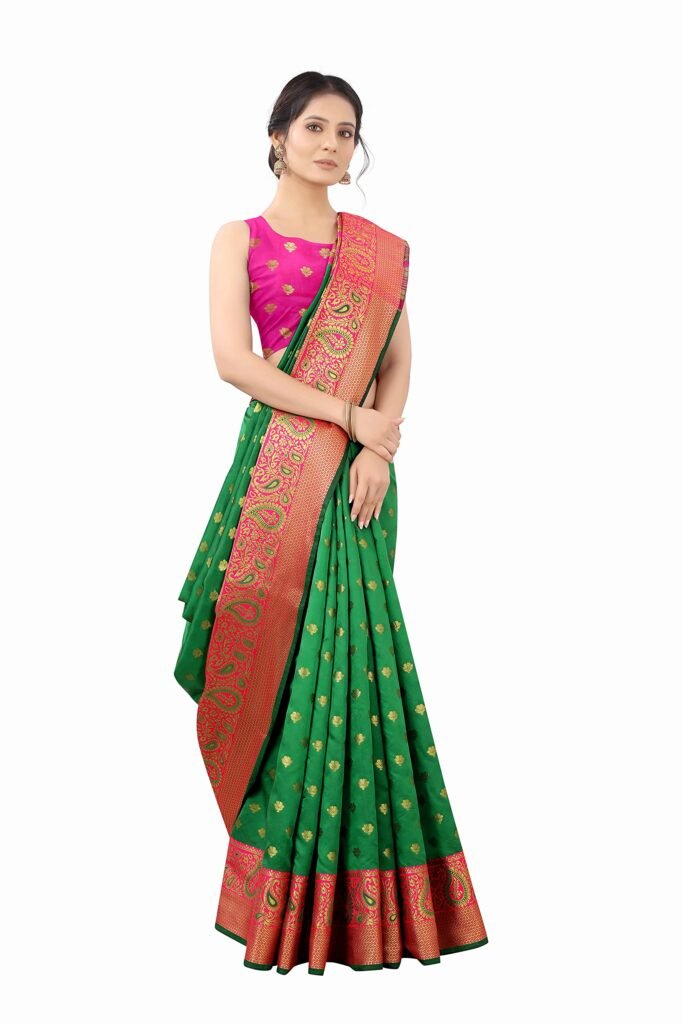 Bandhani Printed & Embroidery Work In Lace Georgette Parrot Green Saree is a magnificent example of traditional Indian craftsmanship and contemporary design. This saree is crafted from delicate georgette fabric, which offers a light and flowing drape, making it both comfortable and visually appealing. What makes it truly exceptional are the intricate Bandhani prints, which are created through a unique tie-dye technique, resulting in eye-catching patterns that resemble tiny dots or knots.
This saree features exquisite embroidery work, which adds a touch of opulence and intricate detail. The combination of Bandhani prints and embroidery work on a parrot green base creates a stunning contrast and a rich visual appeal. The saree is elegantly finished with lace detailing, adding a touch of delicacy to the ensemble.
This Parrot Green Saree is a perfect choice for festive occasions, weddings, and special events where you want to make a lasting impression with your traditional yet contemporary style.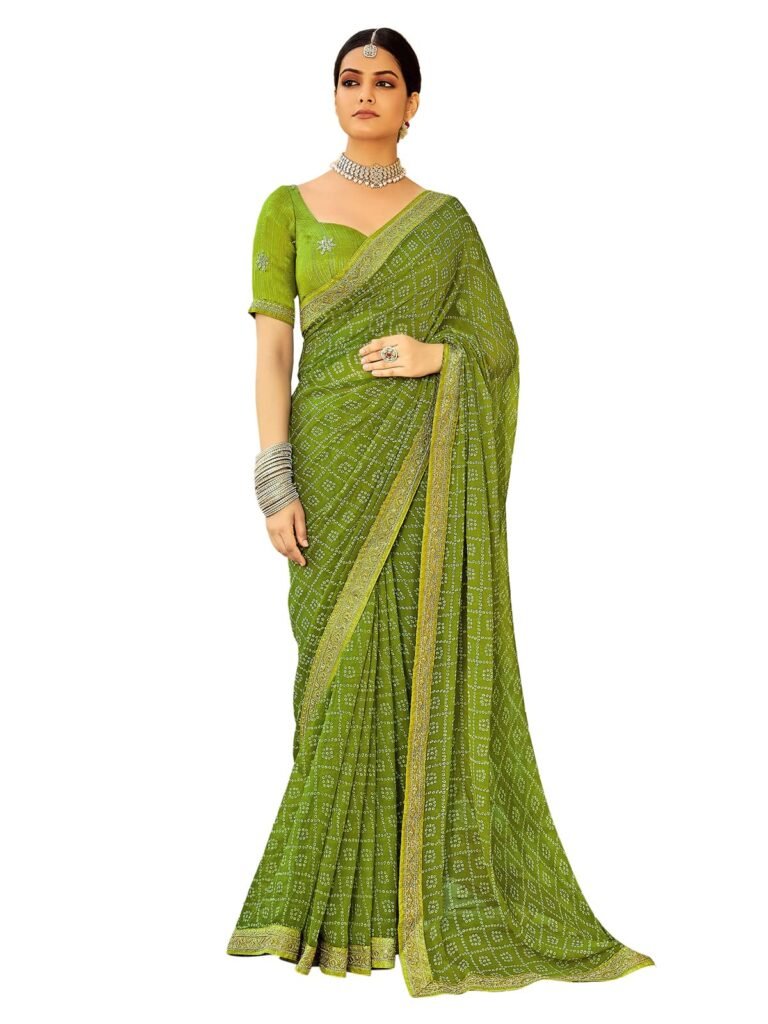 Gorgeous beautiful color saree is well crafted with high quality Kanjivaram Soft Cotton Linen Silk Fabric soft finished, heavy Zari border with Rich pallu, comfortable to wear; artistically woven by our skilled artisans; now flaunt your sophisticated appearance on any special function! Festivals are not far away, the best way to celebrate this time with dressing up your traditional attire. Saree is one such attire that would never go out of fashion. Wear this Saree to festive occasions and ceremonies with earrings and necklace along with a pair of matching fashion sandals or ethnic footwear for an ethnic look. For a casual occasion, you can try mixing and matching this Saree with minimal make up and a matching clutch for a more casual look.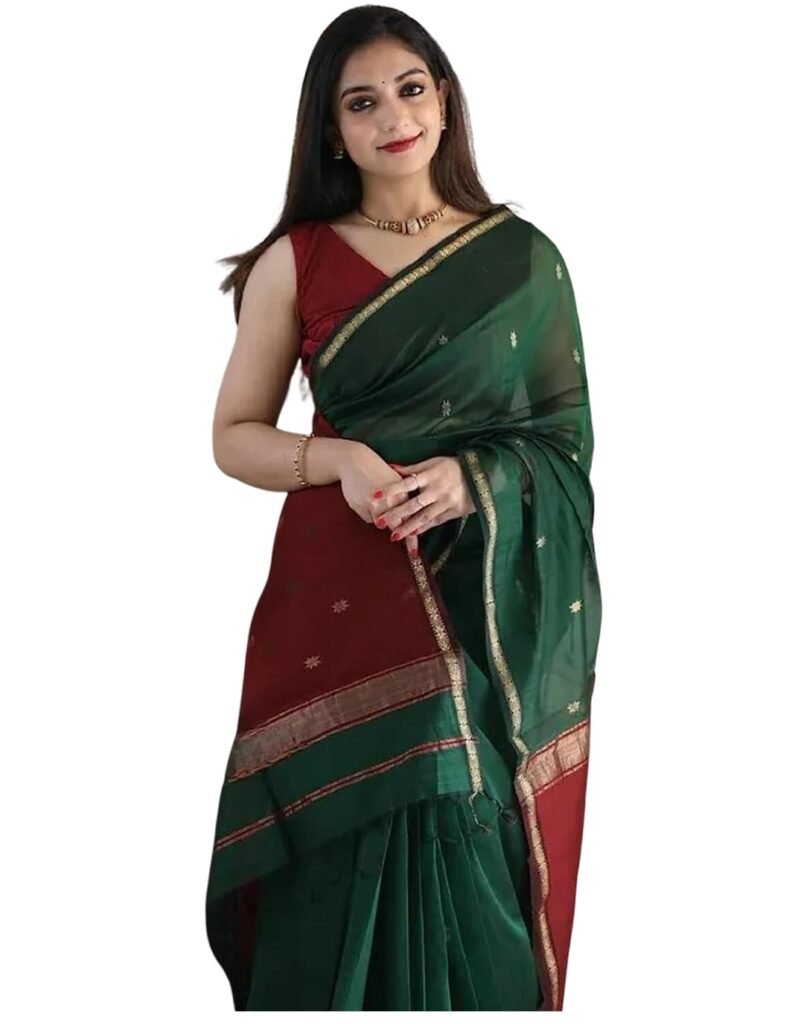 A Solid Net Dark Green Saree is a contemporary fashion choice that blends elegance and modernity. Crafted from net fabric, this saree offers a unique and semi-transparent texture that adds an element of intrigue to its overall look. What sets it apart is its monochromatic design, with a rich, dark green color that exudes sophistication and depth. This solid color choice allows the saree to be incredibly versatile, suitable for various occasions, from formal events to evening parties. The net fabric, known for its delicate and intricate texture, drapes beautifully, making the saree both comfortable and visually appealing. A Solid Net Dark Green Saree is a statement piece that combines the classic charm of sarees with a contemporary twist, making it a popular choice among fashion-forward women who seek a blend of tradition and modern style.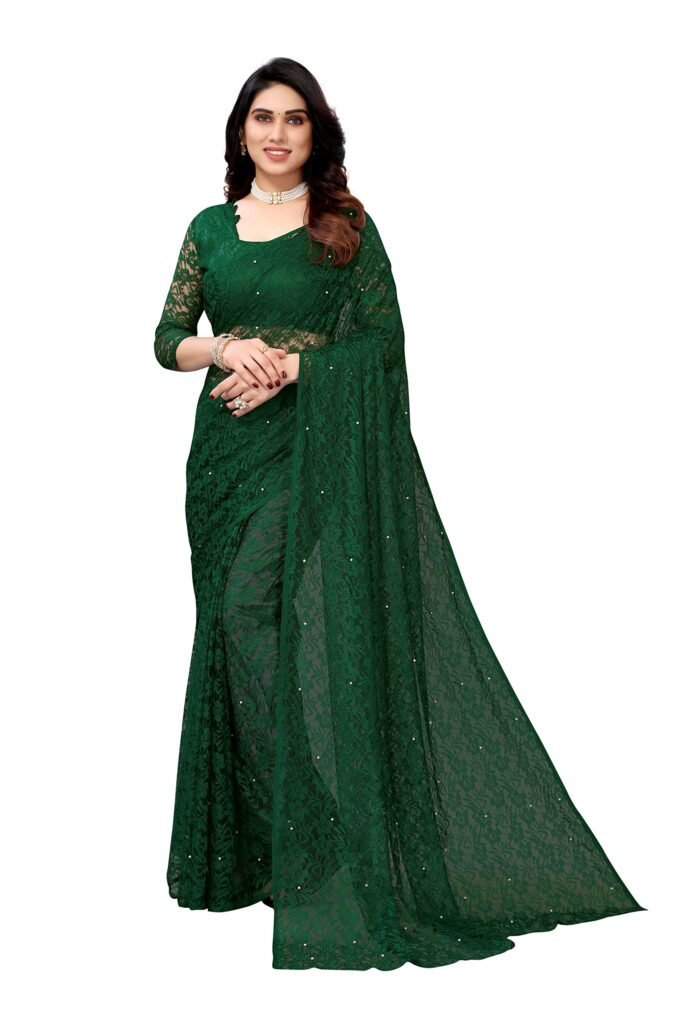 A Chiffon Printed Saree is a delightful fusion of elegance and modern fashion sensibilities. Crafted from lightweight chiffon fabric, this saree offers a delicate drape that gracefully hugs the contours of the body. What sets it apart are the intricate prints and patterns adorning its surface. Chiffon Printed Sarees come in a wide array of designs, ranging from floral motifs to geometric shapes and abstract art, all executed with precision and creativity. The lightweight nature of chiffon makes it comfortable to wear, making it a popular choice for both casual and formal occasions.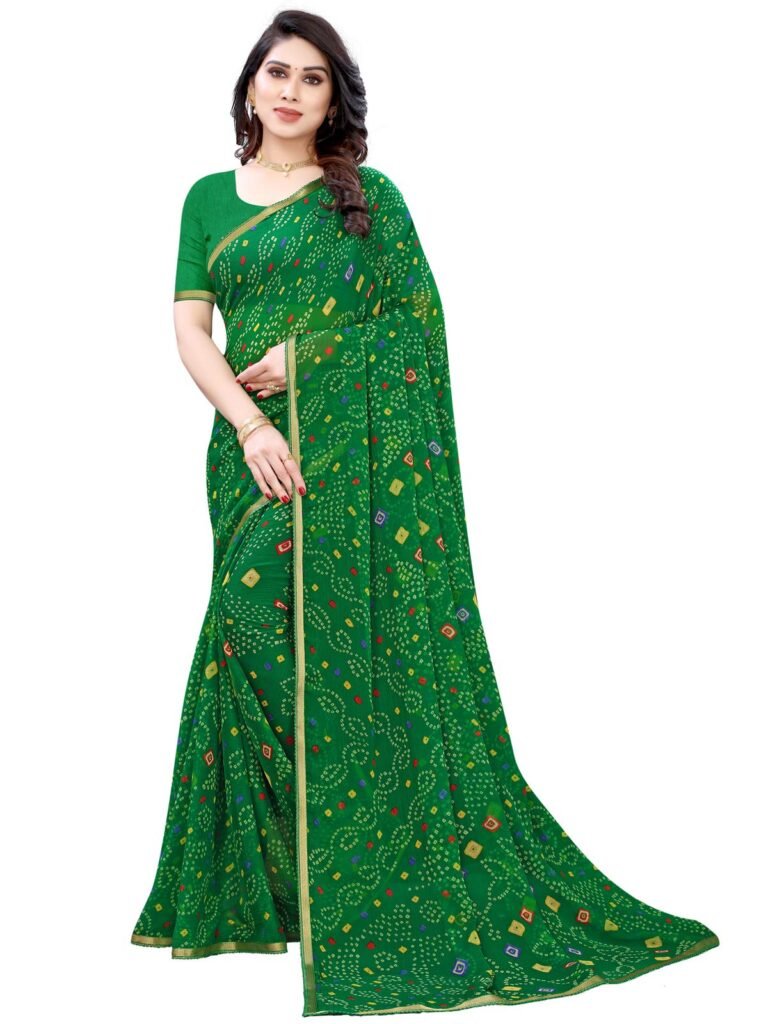 A Kanchipuram Silk Half and Half Woven Pista Green Saree is a masterpiece of South Indian textile artistry and elegance. Crafted in the historic city of Kanchipuram in Tamil Nadu, India, this saree is renowned for its luxurious silk fabric and exquisite weaving techniques. The "half and half" style means that the saree is divided into two contrasting halves, each featuring distinct designs and colors. One half of the saree is adorned with intricate woven patterns and motifs typically associated with Kanchipuram silk sarees. These designs often include traditional motifs inspired by nature, temple architecture, and mythology. The rich heritage of Kanchipuram weaving shines through in the detailed craftsmanship of this portion. The other half of the saree is in a serene pista green color, which adds a refreshing and harmonious contrast to the intricate patterns. The combination of vibrant weaving and soothing green creates a striking visual appeal.
Kanchipuram Silk sarees are celebrated for their quality, durability, and regal appearance, making them a popular choice for weddings, religious ceremonies, and other special occasions.
When a woman is dressed in saree, it redefines her elegance and accentuates her grace. With the right material and drape, it can accentuate the beauty of women of all ages and forms. Be it a festival or a wedding, sarees are a hot favorite worldwide, and it's easy to see why. Sarees give you the opportunity to give a modern touch to traditional Indian attire. This Saree is distinguished by their wide contrast borders. This Kanjivaram pure soft silk saree is woven with heavy silk and golden cloth is considered to be special and is worn on occasions and festivities. It has Beautiful Rich Pallu With Traditional Jacquard work. The beauty of Kanjivaram Pure Soft Silk Saree is that it emanates a rich grace. With beautiful and eye-catching colors, you can choose from a wide range of our Kanjivaram Pure Soft Sarees.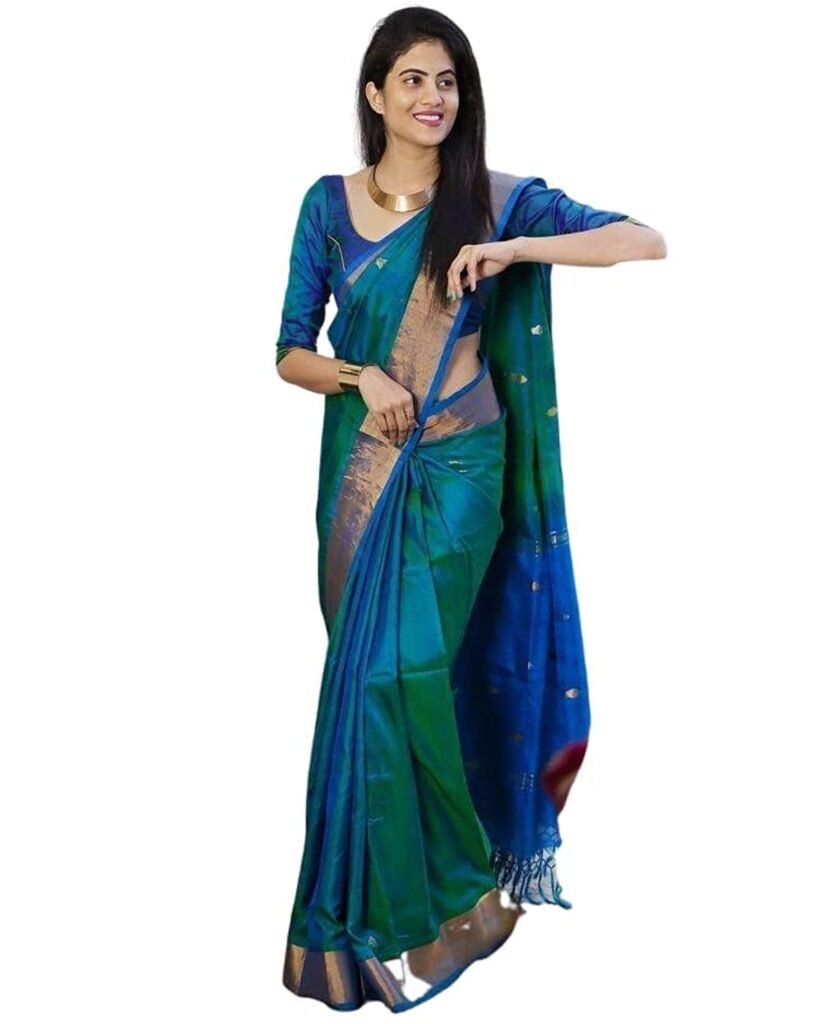 Image Credit – Amazon.in
Also Read