Silver Rakhi Design
Raksha Bandhan is a popular Indian festival that celebrates the bond of love and protection between brothers and sisters. The term "Raksha Bandhan" can be roughly translated to "the bond of protection" or "the knot of protection" in English. It is typically observed on the full moon day of the Hindu month of Shravana, which usually falls in August.
During Raksha Bandhan, sisters tie a decorative thread or bracelet, known as a "rakhi," around their brothers' wrists. In return, brothers offer gifts and a promise to protect and take care of their sisters. This exchange symbolizes the love, affection, and the lifelong bond between siblings. Raksha Bandhan is not limited to biological siblings; it can also be celebrated between cousins, close friends, or anyone who shares a brotherly or sisterly bond.
The festival is marked by various customs and traditions, including special prayers, sweets, and family gatherings. It serves as a reminder of the importance of family and the commitment to support and protect one another. Raksha Bandhan is a joyous occasion that strengthens the ties of love and affection within families and among friends in India and among the Indian diaspora worldwide.
Silver Rakhi Design
Silver rakhis are a testament to craftsmanship and artistry. Crafted from sterling silver or silver-plated materials, they exude a unique luster that captures the essence of the occasion.
Intricate Filigree Work
One of the distinguishing features of silver rakhis is the intricate filigree work. Artisans create delicate patterns and designs on the silver surface, giving the rakhi a distinctive and ornate appearance.
Gemstone Embellishments
To add an extra touch of opulence, many silver rakhis feature gemstone embellishments. Semi-precious stones like turquoise, amethyst, or even tiny diamonds are carefully set into the rakhi, enhancing its beauty.
Traditional and Modern Fusion
Silver rakhis strike a balance between tradition and modernity. While they embrace the time-honored significance of the rakhi, their contemporary designs make them suitable for today's fashion-forward siblings.
Styles of Silver Rakhis
Silver rakhis come in various styles to cater to different tastes and preferences.
Traditional Silver Rakhi
The classic silver rakhi features intricate silver threads woven together, forming an elegant and timeless design.
The Peacock feather charm is made in pure 925 Sterling Silver and threads are made in high quality cotton. The Silver charm is nickel free and skin friendly.  The rakhi threads are made in premium quality pure cotton and tassels are made in resham and zari threads. These threads are exquisitely handcrafted by local artisans . 
Made in 92.5 Sterling Silver with premium Achor cotton thread, with finely handcrafted silk and zari thread lends. Bright and Colorfast.

Design: Fine finish and elegant design in sterling silver. Can be worn as a pendant later.

Om and Ganeshji both signify good luck, prosperity, good fortune and blessings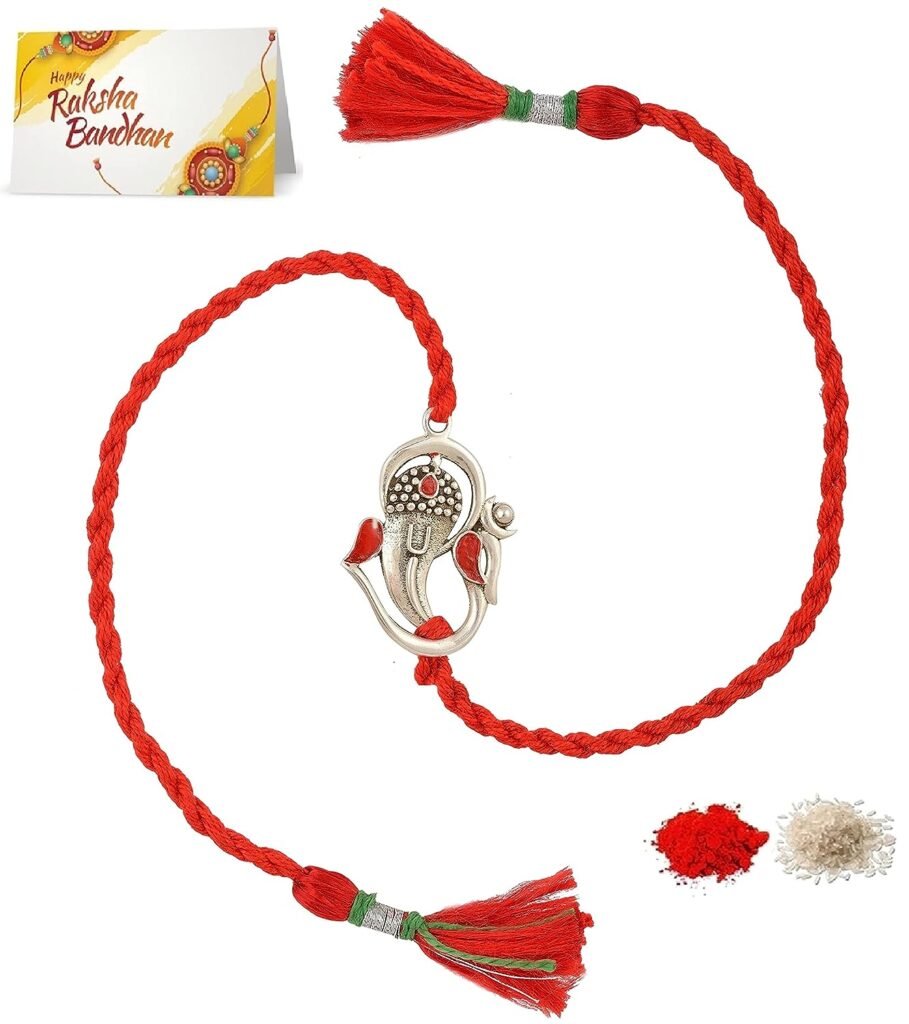 Contemporary Silver Rakhi Design
For those seeking a modern touch, contemporary silver rakhis incorporate sleek and minimalist designs, often with a single gemstone accent.
Personalized Silver Rakhi Design 
In the age of personalization, you can also find silver rakhis that can be engraved with the brother's name or a special message, adding a personalized touch to the ritual.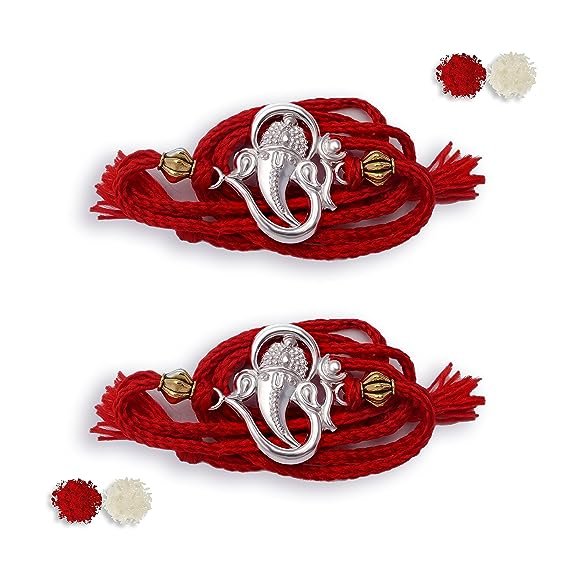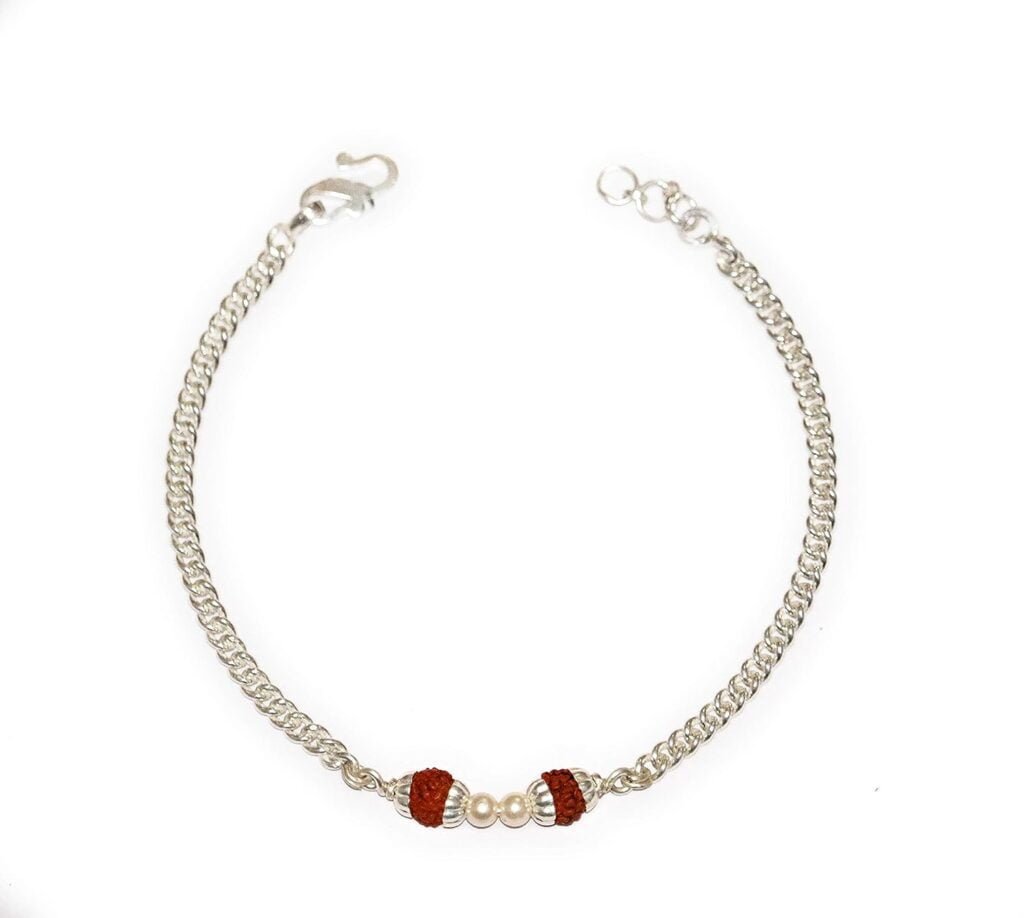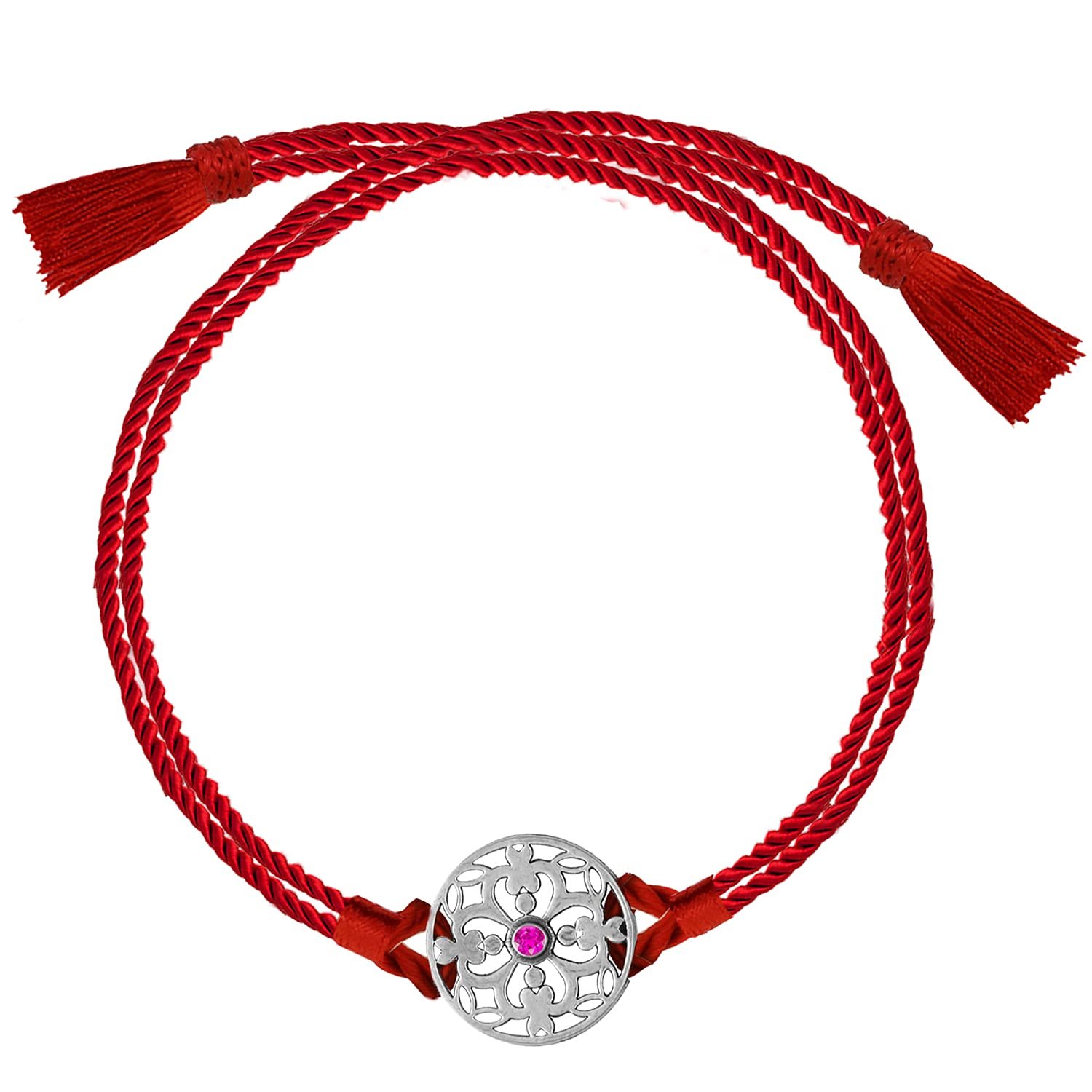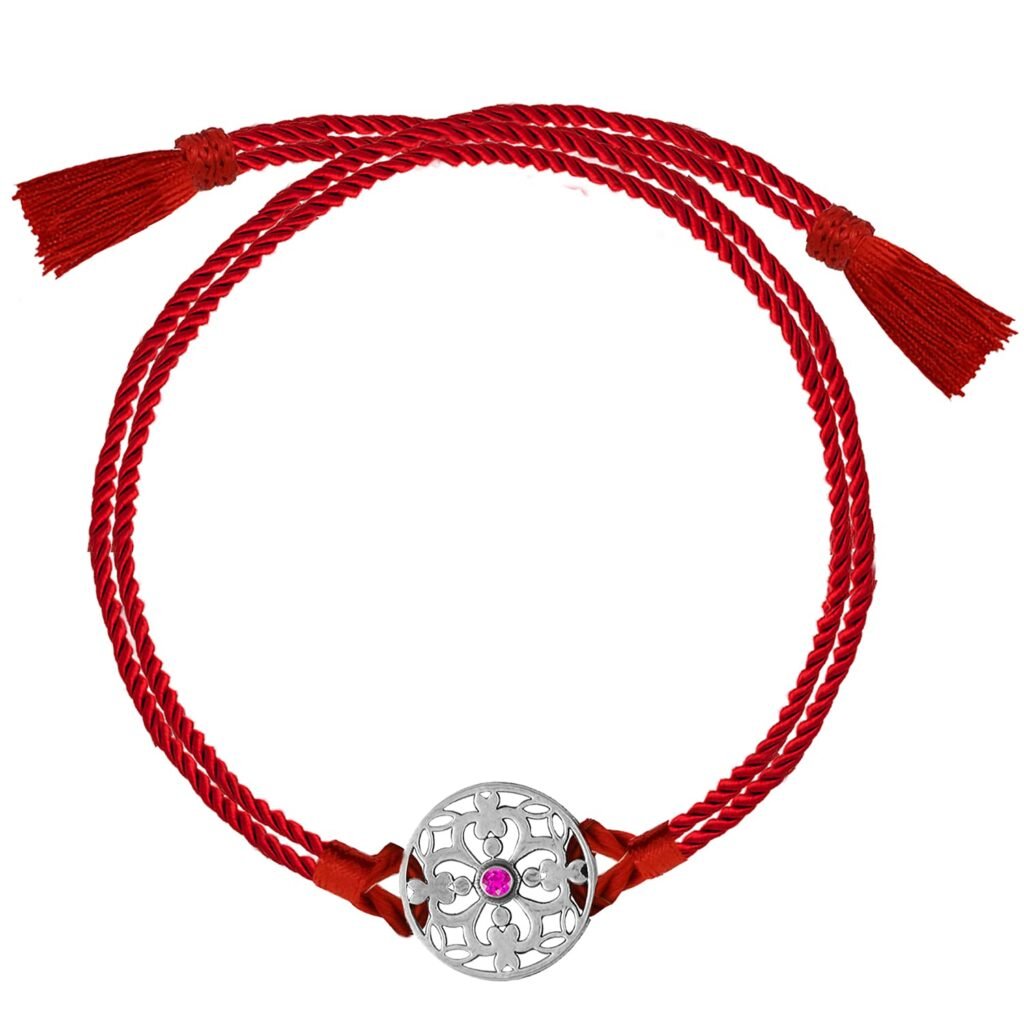 Rakhi designs are not just about aesthetics; they carry profound meaning.
Bond of Protection
The thread of the rakhi is believed to have protective qualities. When a sister ties it around her brother's wrist, it symbolizes her love and the promise of safeguarding him from harm.
Symbol of Love
Rakhis are a visible representation of the love and affection between siblings. They are a reminder of the unique bond that brothers and sisters share.
Tradition in Transition
The ever-evolving designs of rakhis reflect the changing times. They show how tradition can seamlessly blend with modernity, making this festival relevant to all generations.
Conclusion
Rakhi designs have come a long way from simple threads to intricate works of art. They represent the enduring bond between siblings and the adaptability of tradition. Whether you choose a traditional silk rakhi or a personalized bracelet rakhi, the essence of Raksha Bandhan remains the same – a celebration of love, protection, and the cherished connection between brothers and sisters. 
Silver rakhis encapsulate the essence of Raksha Bandhan – a blend of tradition and modernity, purity and opulence. These elegant pieces of art symbolize the enduring love between siblings and the hope for a prosperous future. Whether you choose a traditional silver rakhi, a contemporary design, or a personalized one, the message remains the same: a bond that shines as brightly as silver.
FAQs
1. Are silver rakhis suitable for all ages? Yes, silver rakhis come in various designs, making them suitable for both young and older siblings.
2. Can I buy silver rakhis online? Absolutely. Many online retailers offer a wide range of silver rakhis to choose from, allowing you to find the perfect one for your brother.
3. Is it common to pass down silver rakhis in families? Yes, silver rakhis are often considered family heirlooms and are passed down through generations, carrying the love and memories of previous celebrations.
4. What is the best way to care for a silver rakhi? To maintain its shine, gently wipe the silver rakhi with a soft cloth and store it in a dry, airtight container when not in use.
5. Can I pair a silver rakhi with traditional Indian attire? Absolutely. Silver rakhis complement traditional Indian clothing beautifully and add an extra touch of elegance to your Raksha Bandhan celebration.
All Image Credit – Amazon
Also Read