Stylish Net Blouse Designs
In the realm of ethnic fashion, the blouse is a crucial element that can make or break the entire look. Net blouse designs have gained immense popularity for their sheer elegance and versatility. This article delves into the world of net blouse designs, exploring the various styles that can transform your ethnic attire into a fashion statement.
The embroidery net blouse design features delicate and intricate embroidery work on a sheer net fabric, creating a stunning and elegant look. Here are the key elements of this design . Embroidered net blouses are adorned with intricate designs and motifs that showcase the craftsmanship of the designer. These blouses can turn a simple saree into a stunning outfit.  The blouse is crafted from a lightweight, see-through net fabric that adds an element of sensuality while maintaining an air of sophistication.  The blouse showcases a beautiful blend of various embroidery techniques, including threadwork, zari (metallic thread), and sequins. These elements come together to form exquisite patterns and motifs, creating a visual feast for the eyes.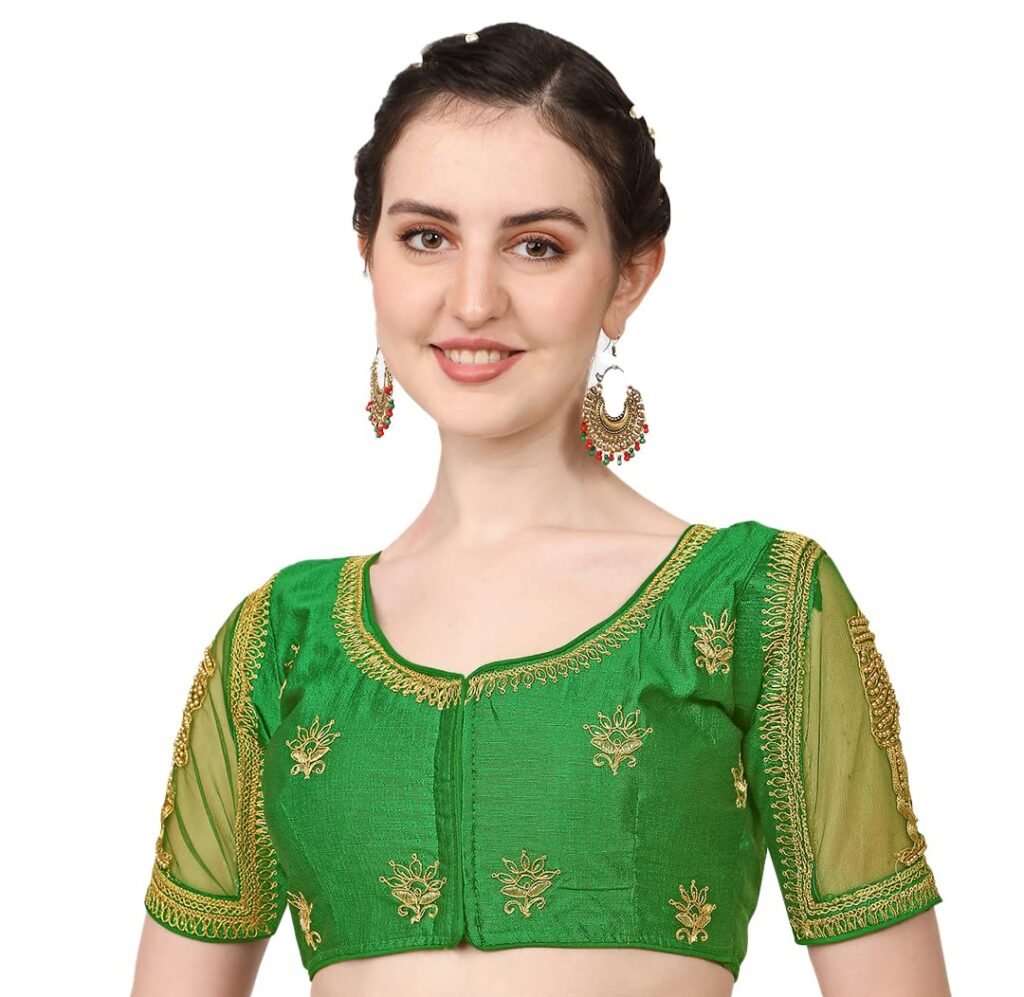 The exquisite net fabric used in this round neck puff sleeve blouse elevates its elegance to a new level. The half sleeves, with their gentle puff at the shoulders, add a touch of sophistication to the design, striking a balance between classic and contemporary fashion. The round neck style provides a versatile canvas for accessorizing with statement necklaces or delicate pendants. This blouse is perfect for a variety of occasions, from formal gatherings to casual outings, as it effortlessly blends comfort with style, making it a wardrobe essential for the modern fashion-conscious woman.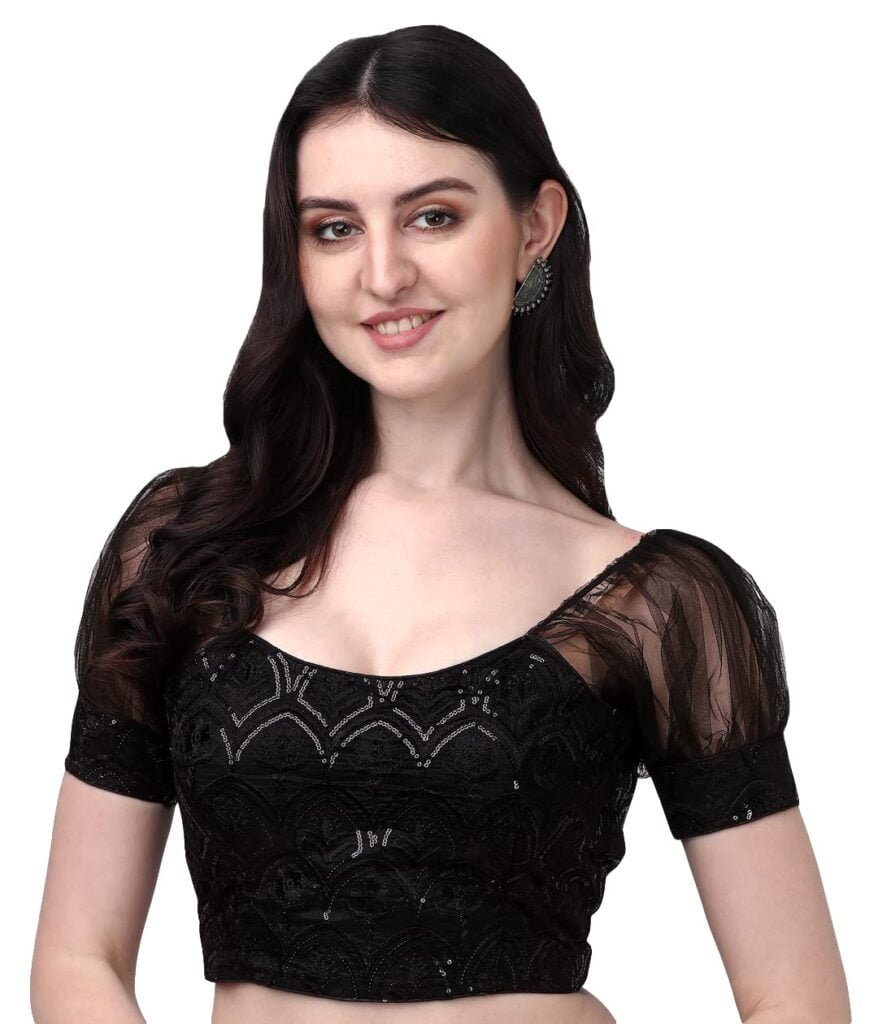 Introducing the perfect fusion of style and convenience: the Net Work Ruffle Sleeves Readymade Saree Blouse for Lehenga Choli. Available in five stunning colors, this blouse is a true fashion gem, designed to enhance your traditional attire effortlessly. The intricate net work detailing on the sleeves adds a touch of grace, while the ruffle sleeves bring a contemporary twist to a classic silhouette. What's more, this readymade blouse is not only fashion-forward but also budget-friendly, with a price tag under 400. Whether you're attending a wedding, a festive celebration, or a special event, this blouse promises to make a statement, allowing you to shine with confidence without the hassle of tailoring.
Net blouse designs have taken the world of ethnic fashion by storm with their sheer elegance and versatility. Whether you prefer a classic look or a bold, modern statement, there's a net blouse design for every taste. Elevate your ethnic attire with these stunning blouse styles and make a lasting impression at any event or celebration.
Elevate your style with a stunning Sleeveless Boat Neck Net Blouse Design adorned with intricate embroidery. This contemporary blouse seamlessly combines elegance and modernity, with its sleek boat neckline and the absence of sleeves, allowing you to showcase your shoulders and collarbone with grace. The use of sheer net fabric adds an element of sensuality while the exquisite embroidery work lends a touch of artistry. This versatile design pairs effortlessly with various sarees or lehengas, making it an ideal choice for special occasions. Whether it's a wedding, a festive gathering, or an evening soirée, this blouse design will make you the center of attention, exuding sophistication and charm in every step you take.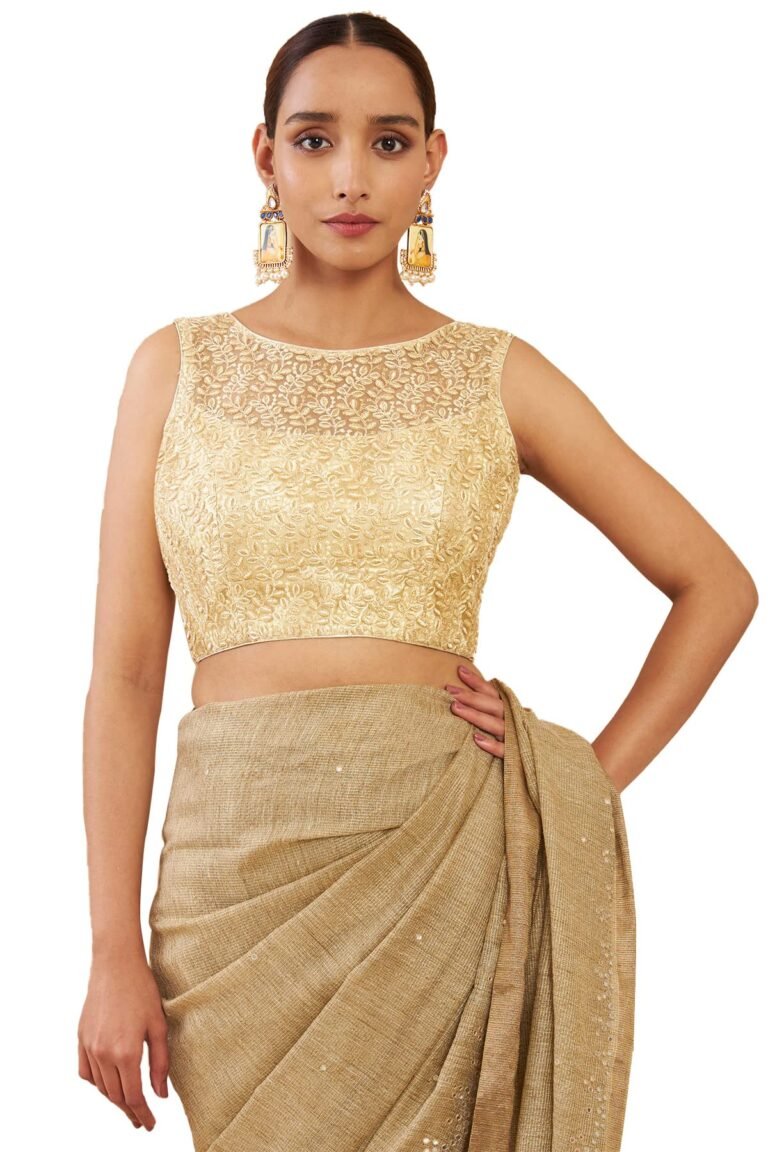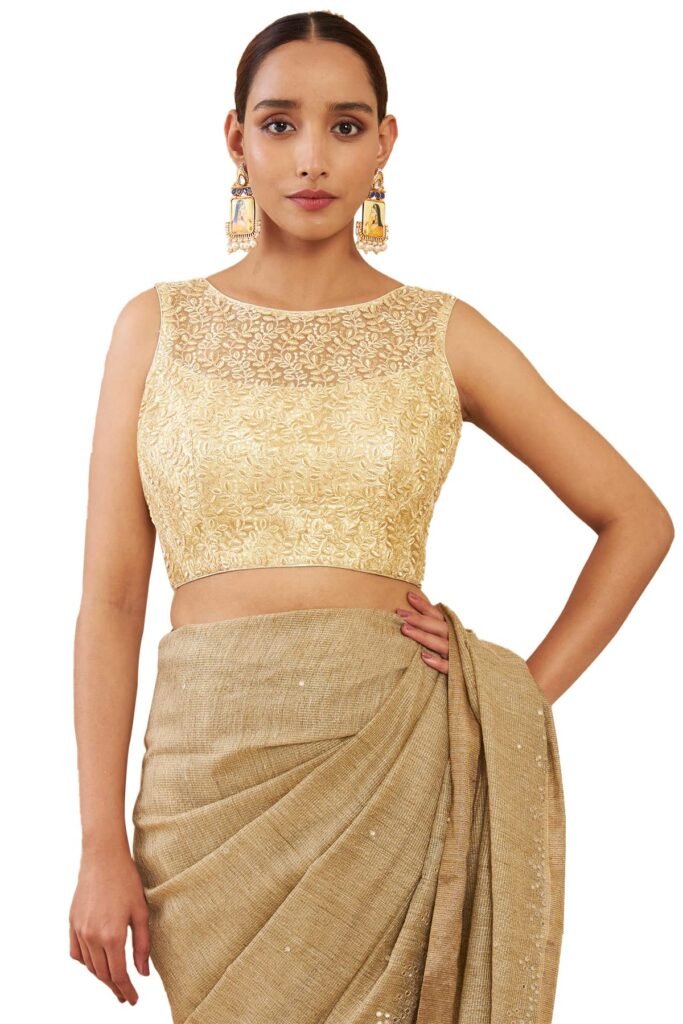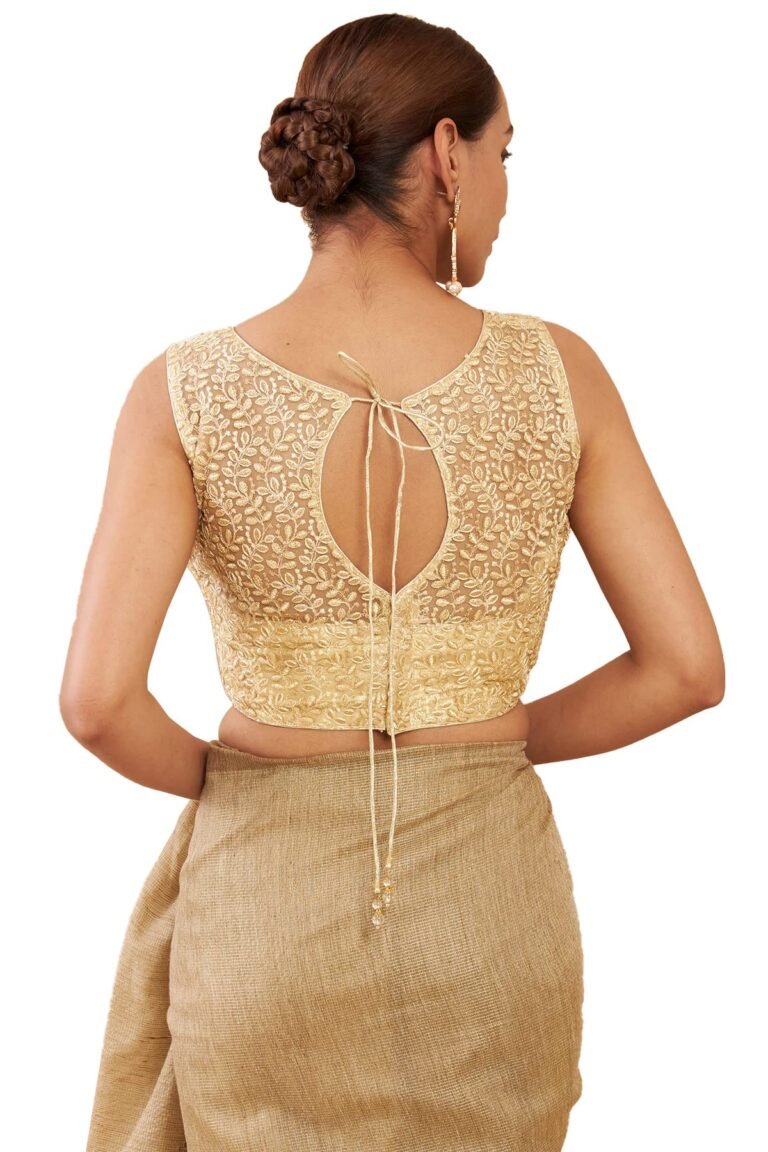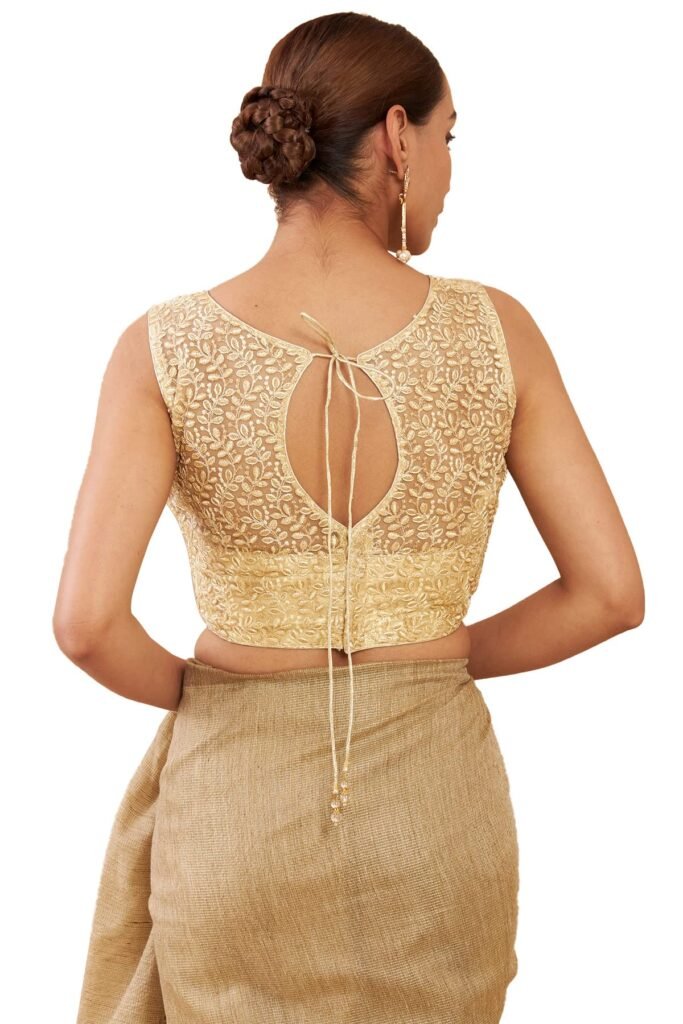 The Readymade Embroidery Net Blouse. With a secure hook and eye closure, this blouse is not only effortlessly wearable but also exquisitely designed. The 3/4 sleeves are a perfect balance of coverage and elegance, making it suitable for various occasions. This versatile blouse is available in a choice of four stunning colors, ensuring you can find the perfect match for your saree or lehenga. Whether it's a grand celebration, a cultural event, or a formal gathering, this blouse adds a touch of sophistication and charm to your ensemble, making you stand out with grace and poise.
This round neck Blouse features all over sequin embroidery with elbow length sheer sleeves. Tailored for a comfortable fit, this Blouse comes with lining and a side zipper.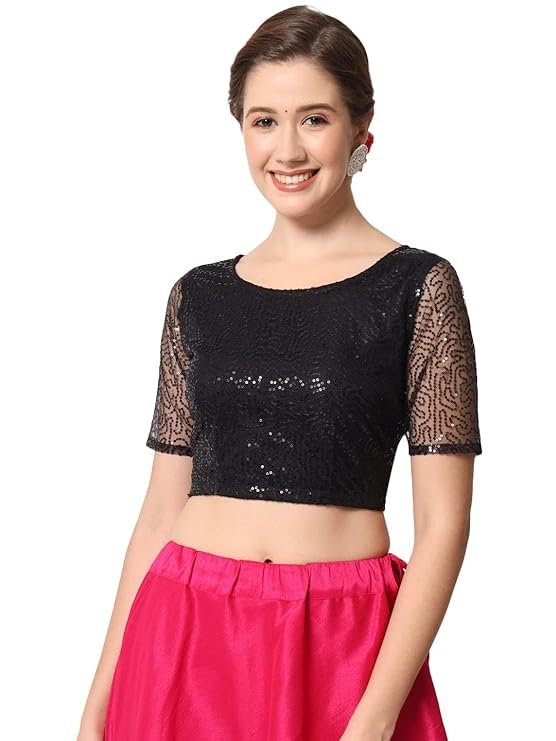 This Top Features a Net Cape with Embroidered Sequins Bootis all over Surface for an Elegant look .This Crop Top has a soft Lining inside and a Side Zip which makes it more Comfortable to Wear . Outer  Materialis Net while Inner is Dupion with Lining . Suitable for Wedding, Party, Festive and can also be worn as a Saree Blouse.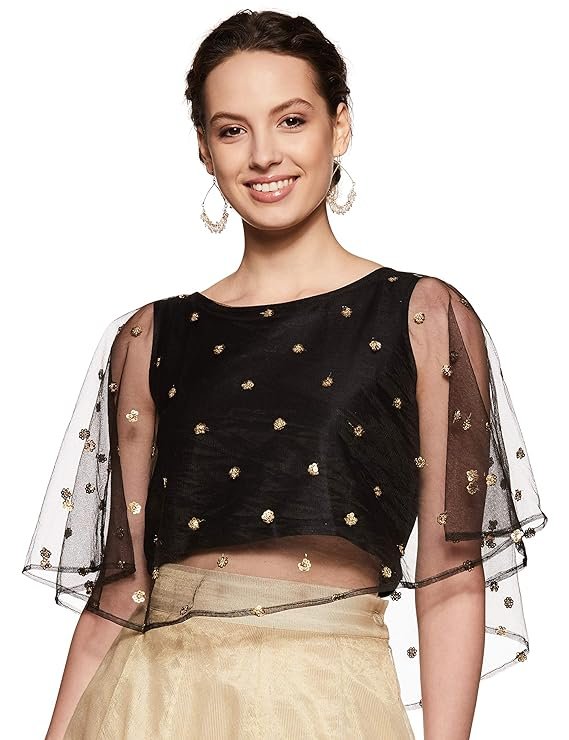 The Women's Net Floral 3/4 Sleeve Readymade Saree Blouse is an exquisite piece of clothing that adds a touch of elegance and sophistication to any saree ensemble. Crafted from delicate and breathable net fabric, this blouse features a beautiful floral design that adds a feminine and charming element to the outfit. The 3/4 sleeves provide a perfect balance between modesty and style, making it suitable for various occasions. Its readymade design saves time and effort, making it a convenient choice for busy women who want to look stunning effortlessly. This blouse complements a wide range of sarees, making it a versatile addition to any wardrobe and a must-have for every fashion-forward woman.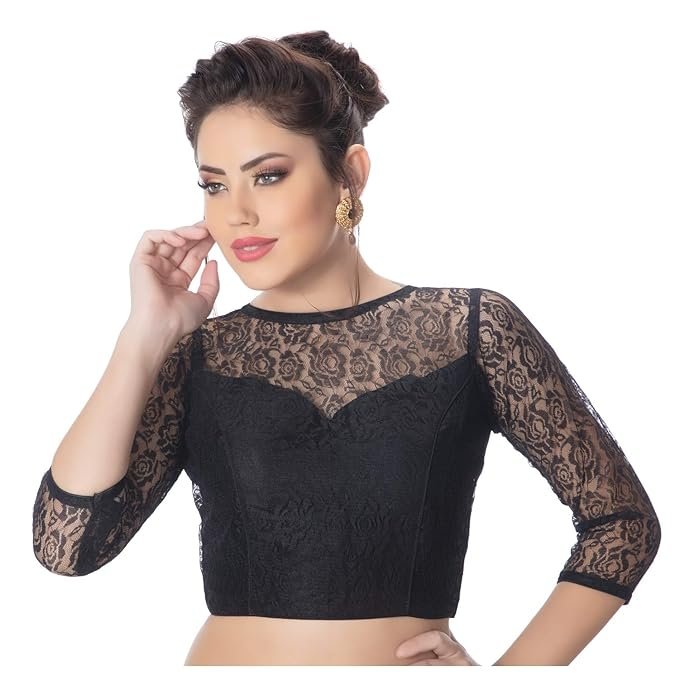 Elevate your style with our exquisite collection of blouses designed exclusively for women. Discover the perfect blend of comfort and fashion. Explore hassle-free fashion with our readymade blouses for women. They are crafted to save you time without compromising on style or fit.
The Net Blouse, made from sheer and lightweight net material, boasts a boat neck that exudes a subtle, timeless charm. With its half sleeves, this blouse strikes a harmonious balance between comfort and style, making it a suitable choice for various occasions. The back hook and dori closure adds a touch of grace and sophistication to the overall design, ensuring a secure and snug fit. What makes this net blouse even more appealing is its availability in eight stunning colors, allowing you to pick the perfect shade to match your saree and create a truly enchanting ensemble. Whether you opt for classic black, elegant white, or a vibrant hue, this blouse is a versatile and fashionable addition to your wardrobe.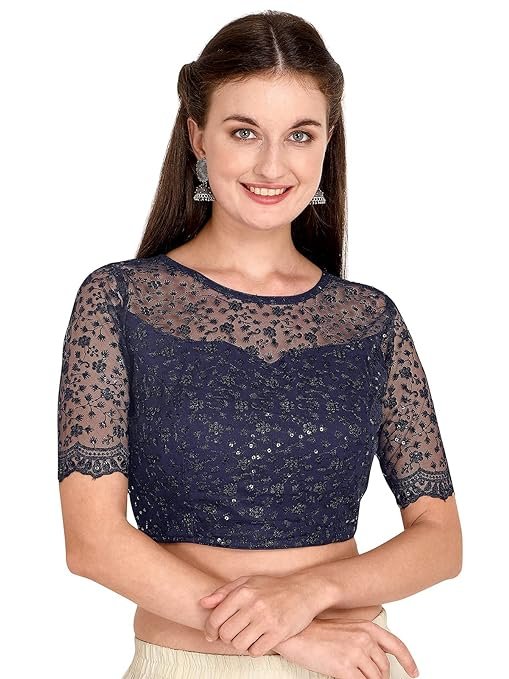 Also Check
FAQs About Net Blouse Designs
1. Are net blouse designs suitable for all body types?
Yes, net blouse designs are versatile and can be tailored to flatter different body types. A skilled designer can create a blouse that complements your figure.
2. What types of sarees or lehengas pair well with net blouses?
Net blouses complement a wide range of sarees and lehengas, from traditional silk sarees to modern georgette or chiffon fabrics.
3. Can net blouses be customized with specific patterns or embellishments?
Absolutely, net blouses offer a canvas for customization. You can work with a designer to incorporate your preferred patterns, embroidery, or embellishments.
4. How should one care for net blouses to ensure their longevity?
To maintain the beauty of net blouses, it's essential to store them in a cool, dry place and avoid hanging them with heavy garments that may stretch the fabric.
5. Are net blouse designs suitable for both formal and casual occasions?
Yes, net blouse designs can be adapted for both formal and casual events, depending on the fabric, patterns, and embellishments chosen.
Elevate your ethnic attire with the timeless charm of net blouse designs. These exquisite blouses can turn any traditional outfit into a fashion masterpiece, leaving a lasting impression wherever you go.