Meenakari Jewellery Set
Meenakari jewelry is an exquisite art form that has been cherished for centuries in India. This artistry involves the intricate decoration of metal surfaces with colorful enamels, creating stunning and vibrant designs. In this article, we will delve into the world of Meenakari jewelry, exploring its rich history, the craftsmanship involved, its significance in Indian culture, and its contemporary appeal.
Meenakari jewelry comes in various forms, including necklaces, earrings, bangles, and more. Each piece is a testament to the artisan's skill, showcasing stunning motifs and patterns that reflect India's rich cultural heritage.
Meenakari jewelry holds a special place in Indian culture. It is often worn during significant occasions, such as weddings and festivals, as it is believed to bring good luck and prosperity to the wearer.
This type of jewelry set is a popular and elegant choice for many occasions. The base of the jewelry is plated with a lustrous layer of gold. This gives it a rich and opulent appearance, similar to pure gold, but at a more affordable price. In this jewelry set, red and green Kundan stones are used, providing a vibrant and eye-catching contrast against the gold plating. The combination of red and green Meenakari work adds a layer of detailing to the jewelry, enhancing its overall beauty. This jewelry set is a perfect choice for special occasions such as weddings, festivals, and cultural celebrations. It complements traditional Indian attire like sarees, lehengas, or Anarkali suits, adding a touch of timeless elegance to the wearer's ensemble. The combination of gold, Kundan, and Meenakari work makes it a striking and versatile choice that can be treasured for years to come.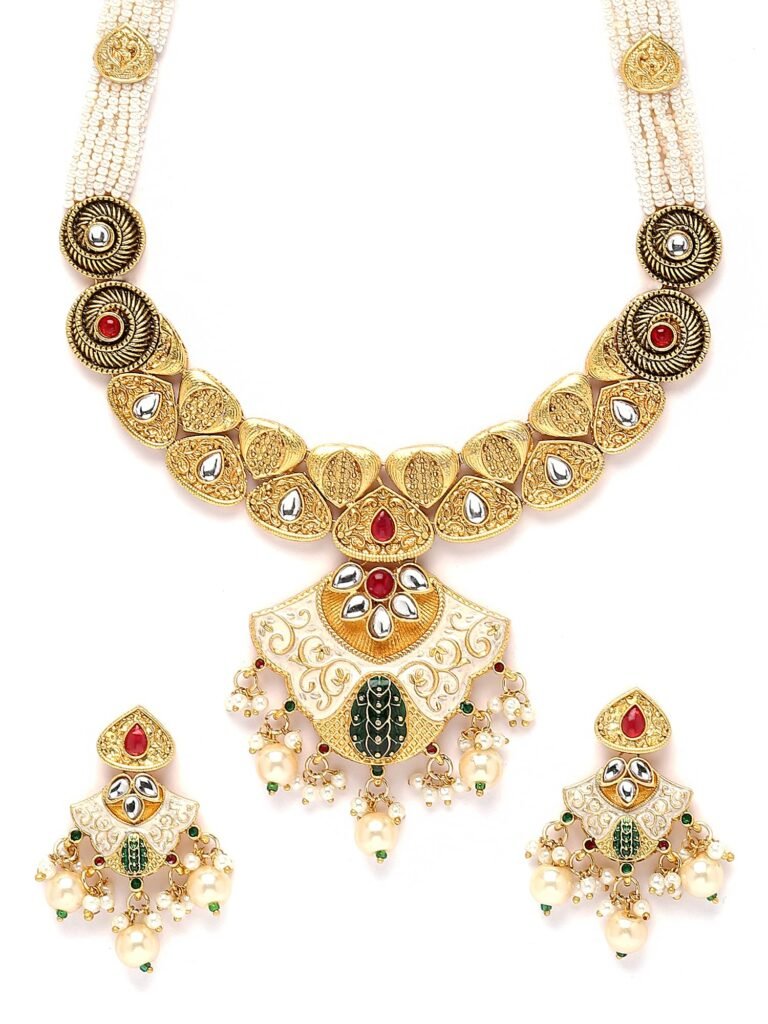 Kundan choker necklace set is a timeless and classic choice for both girls and women. Meenakari jewelry is an integral part of Indian weddings and festive celebrations. It adorns brides, grooms, and family members, symbolizing the joy and grandeur of the occasion. Choker necklaces are known for their timeless and versatile design. They can be worn with both traditional and contemporary outfits, making them a popular choice for various occasions.
This jewellery set is crafted in gold plating and consists of a necklace and a pair of earrings with maang tikka. The necklace feature kundan-studded and meenakari work in it and is secured with a drawstring closures. Style this necklace set with a saree or lehenga on your wedding day to enhance the look. They have special importance on ring ceremony, wedding and festive time. They can also wear It on regular basis. Make your moment memorable with this range. Ideal Valentine, Birthday, Anniversary gift for your loved ones.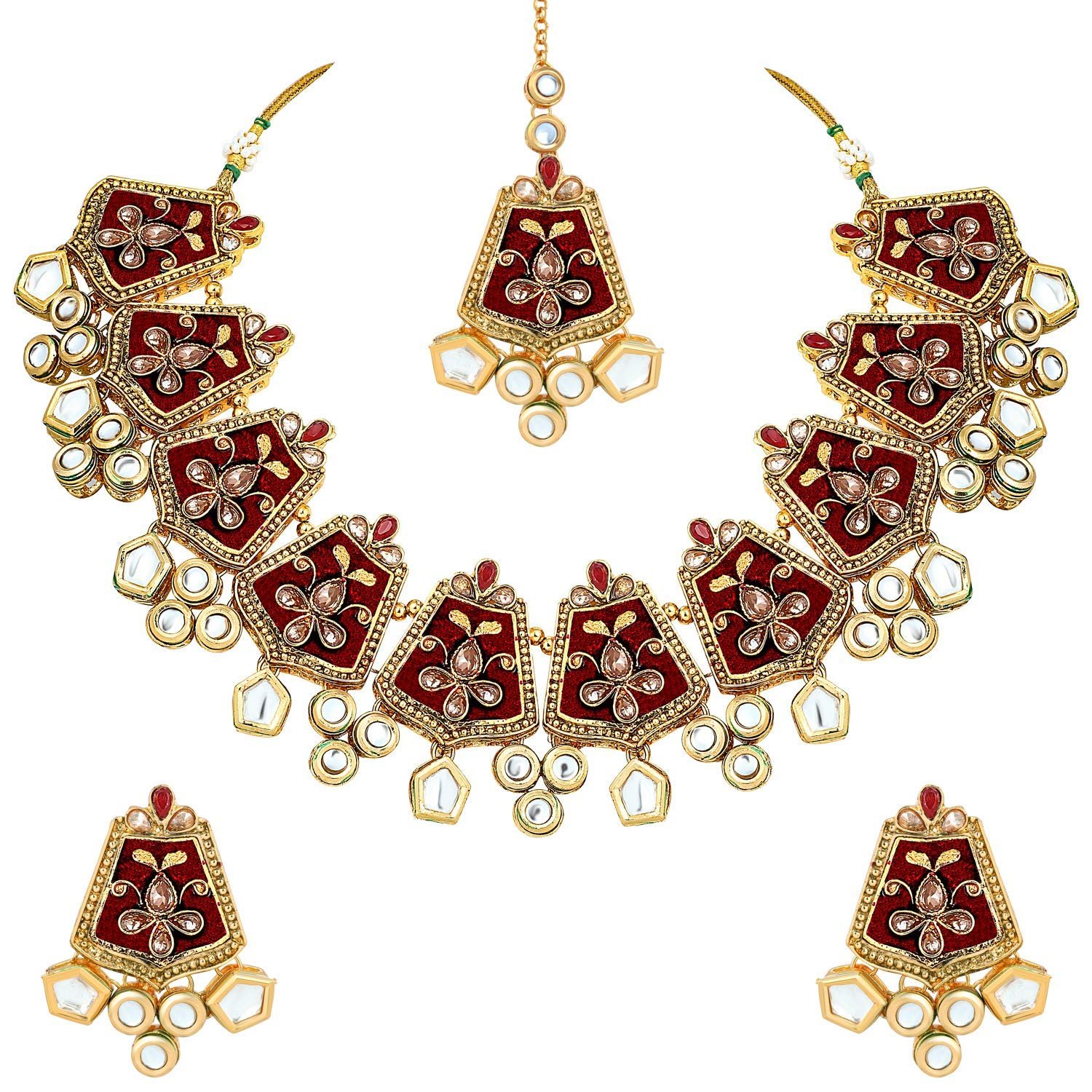 This gold-plated jewellery set for women has a beautiful traditional floral design adorned with Kundan stones. It has an intricate pattern exquisitely crafted by skilled craftsmen. This jewellery set for girls has excellent finishing and detailing to make you look and feel beautiful.
This necklace for girls and women is perfect for Casual wear or Party wear. This modern fashion party wear necklace for girls has a really feminine and trendy design that makes your dresses look all the more gorgeous. You can wear them on any occasion with any of your favourite outfit. Stylish jewellery for women.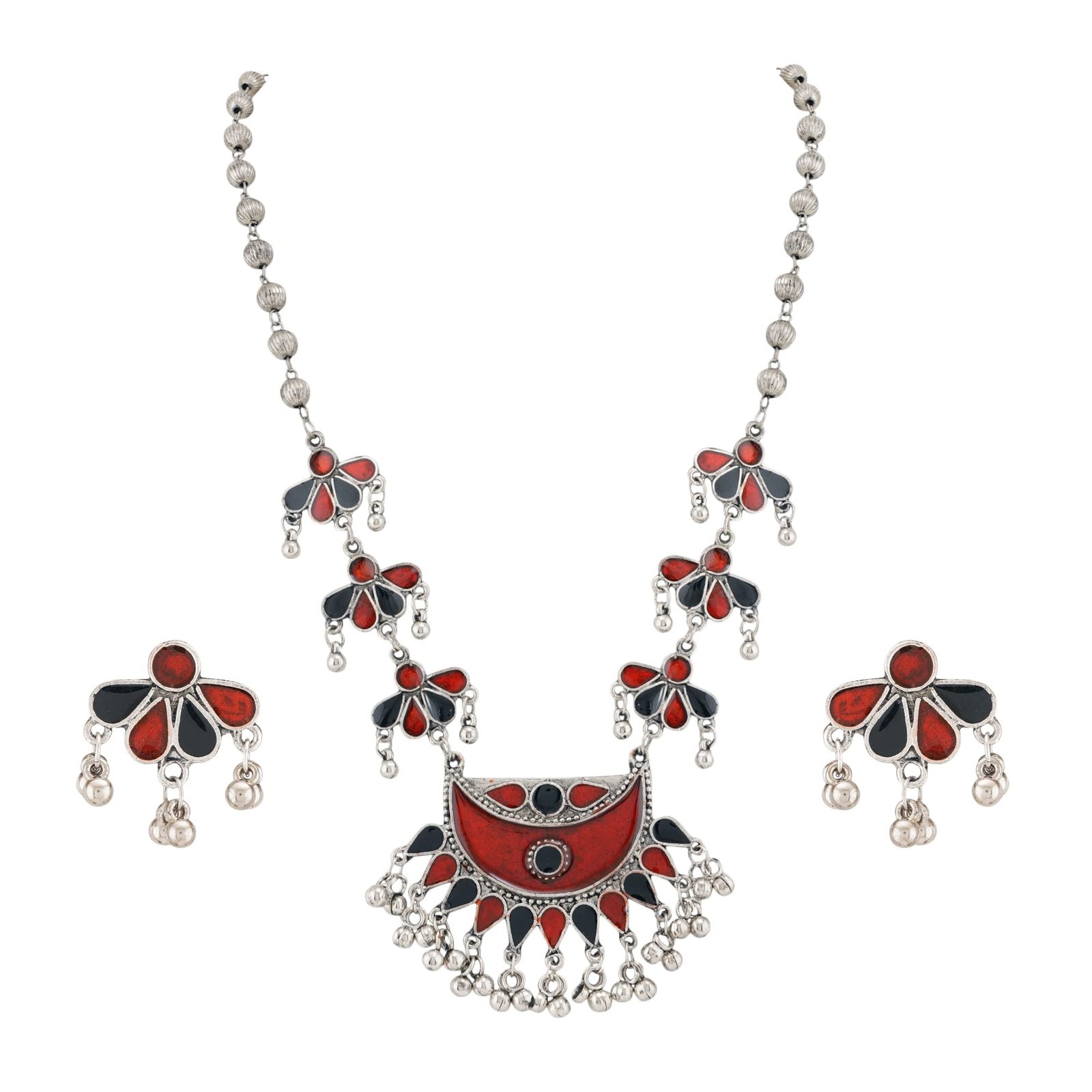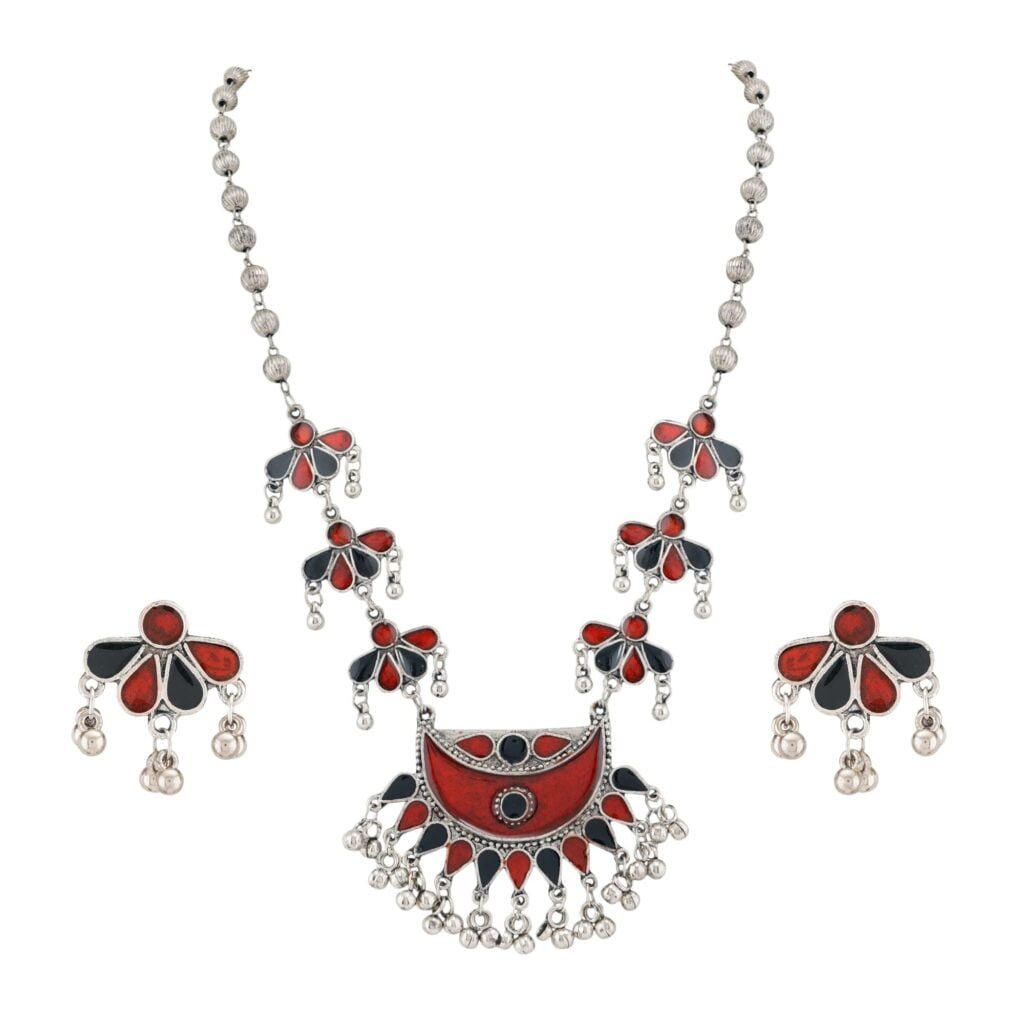 In conclusion, Meenakari jewelry is a testament to the skill and artistry of Indian craftsmen. Its rich history, vibrant designs, and cultural significance continue to make it a cherished form of jewelry. Whether you're looking for a piece to wear on a special occasion or a daily fashion statement, Meenakari jewelry has something to offer for everyone.
All Image Credit – Amazon.in
Also Check